Highly-touted brush peddler Real Techniques released a new, limited edition set today. The six-piece set contains one brand-new brush, two that are available a la carte, and three that are available as part of other collections.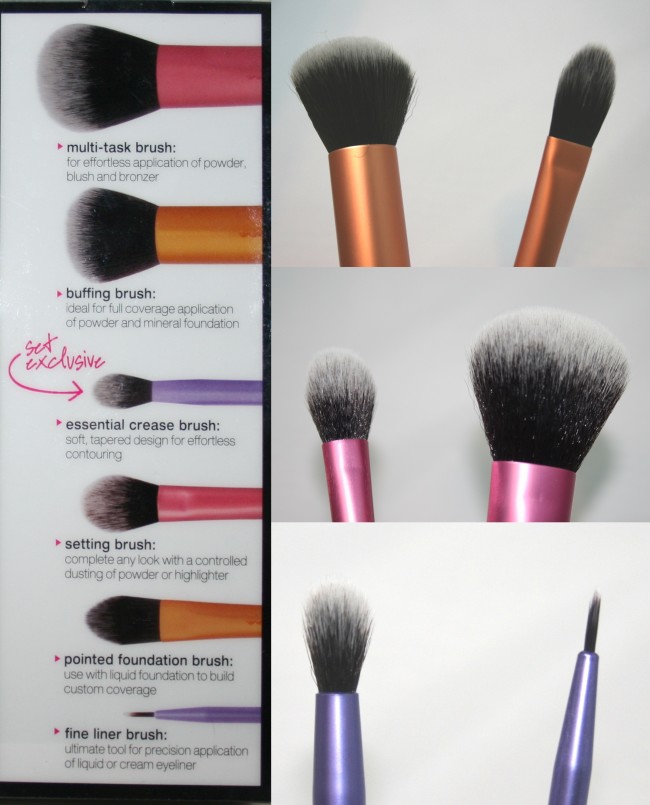 Photo credit to BeautyGeekUK.
The Real Techniques Sam's Picks Set includes the following:
multi-task brush: use with powder, blush and bronzer (also in the Travel Essentials kit)
buffing brush: full coverage application of powder foundations (also in the Core Collection)
essential crease brush: soft, tapered design for effortless contouring (new to the set/collection)
setting brush: controlled, light application of highlight or powder (available by itself)
pointed foundation brush: build custom coverage with liquid products (also in the Core Collection)
fine liner brush: precision application of liquid or cream eyeliner (available by itself, never in a kit – this is finer than the one in the Starter Set)
I currently own only one Real Techniques product – their blush brush. So far, I am enamored of it. It feels – and my friends have agreed – that using it feels like rubbing kittens on your face. Ridiculous description? Maybe, but definitely true, as this sucker transcends the boundaries of softness. It is really user-friendly and way more accessible than, say, MAC brushes. Otherwise, my collection of brushes is embarassingly small and so-so in overall quality. I haven't purchased the Travel Kit, Core collection, or Starter Set because there are so many brushes in them I won't use. For example, I do not want a, "multi-task," brush – jack of all trades perhaps, but master of none. I'm not interested in their buffing brush, I'd rather have their Expert Face Brush (which reminds me of Urban Decay's Optical Blurring Brush, another round-topped kabuki) but I don't really have much use for it. I already have an angled liner brush I am happy with (Bdellium Tools Studio Line – Precision Eye and Brow 760
). I don't like flat foundation brushes, I have shaders that are good enough until I can buy something awesome, etc.
Retailing at $30 and available direct from RealTechniques, also allegedly in Ulta stores, and apparently at Target at some point, this would be a good set for someone who has no brushes at all. I will pass for now, but I really hope they make that crease brush available on its own!